31st Annual MAINSAIL ARTS FESTIVAL
April 22nd & 23rd, 2006
9 a.m. to 6 p.m. Sat. &
10 a.m. to 5 p.m. Sun.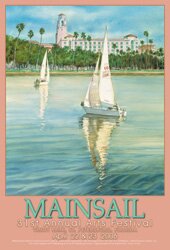 The waterfront of downtown St. Petersburg provides a picturesque setting for the 31st Annual Mainsail Arts festival. As a leading cultural event on St. Petersburg's outdoor calendar, over 100,000 visitors from near and far come to enjoy and purchase quality art and listen to top name entertainment. The Mainsail committee of hard-working volunteers produce this annual fine arts festival named by Sunshine Artist as one of the top 200 fine arts events in the United States. Artists exhibiting are competing for $50,000 in prize money.
This year's Mainsail commemorative art was created by Elaine Hahn, an
artist who resides in Holiday, FL and works in two mediums --
watercolor and oil. Her design will be available on Mainsail T-shirts
and posters. You will find Elaine exhibiting at this year's show, in
Booth #1. For more information about the artist, visit
http://www.elainehahnart.com/
There is something for everyone....
This two-day event combines visual and performing arts along with opportunities for children to actively engage in art activities. There is a delicious assortment of culinary arts and as well as Mainsail souvenirs. There is no cost to the public to view the show. Over 200 exhibiting artists from all over the United States have their art on sale or available for commission in the following categories:
Ceramics, Fibers, Glass, Jewelry, Metal, Mixed Media, Oil/Acrylic, Photography, Sculpture, Watercolor and Wood.
Mainsail's Young at Art continues to grow. Look for the colorful Young at Art banners to find Mainsail's student exhibition. This year we will feature 300 pieces of the very best artwork from our Pinellas County School students. The work is juried from over 500 pieces of artwork submitted by art teachers from both public and private schools throughout Pinellas County. This year's Judge and arts professional, Betsy Orbe Lester, has chosen 5 - Awards of Excellence, which will be presented to a school showing the most outstanding entire body of work. Additionally, she has chosen 20 - individual student works which will receive Awards of Special Merit and up to 30 - Honorable Mention Awards. Additionally, 3 High School Seniors have been awarded $1,500 Scholarships from Mainsail and examples of their work may also be seen in the tent. The Awards presentation will take place on Saturday, April 22, at 11:30am.

Festival Info | Artists Info | Patron Info


© 2001 Mainsail Arts Festival Inc.
Site Developed and Maintained by and Michael Carnahan